Rev. Dr. Ianther Mills (Senior Pastor)
The Reverend Doctor Ianther Marie Mills has been an ordained minister in the Baltimore-Washington Conference of the United Methodist Church since 1997.She answered her call to ministry in 1990, at A.P. Shaw United Methodist Church located in Washington, D.C.,under the ministry of The Reverend E. W. Stevenson, Sr.
The charge God gave her is this paradoxical reflection on Ephesians 3: "To search the unsearchable riches of Christ and share the fullness of God."
Prior to her appointment to Asbury United Methodist Church, Dr. Mills served as the Dean of the Cabinet (2008-2013) and the Washington East District Superintendent (2005-2013). She served five years as Pastor of Good Hope Union United Methodist Church (2000-2005); and three years as the Associate Pastor of Catonsville United Methodist Church (1997-2000). Before being ordained, she served two years as the Director of Youth and Christian Education at Mt. Carmel United Methodist Church; and as a Student Chaplain at Asbury Methodist Village.
Ianther received her Doctor of Ministry degree from Wesley Theological Seminary in 2003 with a concentration in "Race, Ethnicity, and Ministry in the Wesleyan Perspective."
Additionally, she holds a Master of Divinity from Wesley Theological Seminary (summa cum laude, 1997), M.B.A. from the University of Oklahoma (summa cum laude, 1986), M.S. in Computer Science from the University of North Carolina in Chapel Hill (1983), and B.S. in Mathematics from Georgetown University (1978). She has served as a General Conference and Jurisdictional Conference Delegate. She has served on many board and agencies, some of which include: General Board of Higher Education and Ministry, Study of Ministry Commission, Conference Board of Ordained Ministry, Conference Discipleship Council, Conference Sessions Committee, Board of Congregational Life, Conference Commission on the Status and Role of Women, District Committee on Ordained Ministry, and District Board of Church Location and Building. She has also been an active participant in Action in Montgomery County (AIM) and has served on the Board of Directors of the Suburban Pastoral Counseling Clinic in Catonsville, MD.
Ianther is a native of the Washington Metropolitan area. She has fifteen years of experience in Software Engineering, working for GTE Government Systems, TRW Inc, and Booz, Allen & Hamilton. Her technical background, as well as her experience in program, technical, and administrative management have been invaluable assets to her ministry.
Dr. Mills has been married to Hilton E. Mills, Jr. for twenty years. Hilton is Founder and President of OnAir Applications, Inc. He is devoted to a calling to prison and men's ministries and serves monthly leading a Bible study at the Jessup Detention Center.
Rev. Ryan Wise (Minister of Evangelism and Outreach)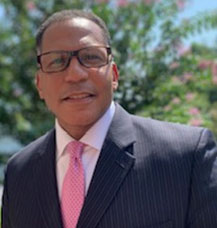 Rev. Wise is a graduate of the University of Maryland University College  earing a Master of Science degree in Management and Human Resources and received a Master of Theological Studies and Master of Divinity degrees from Wesley Theological Seminary in 2017 and 2022 respectively.
Rev. Ryan A. Wise is currently a 33 year federal employee serving as a Program Manager (Human Resources Information Technology) within the US Coast Guard Department of Homeland Security, demonstrating systems administration system implementation, and project management on the US Human Resource management automation payroll/personnel system platforms. Previous federal position includes Supervisor HRIT Governance with the Department of Veteran Affairs, Team Leader/Project Manager within National Protection and Programs Directorate (NPPD), Human Resources IT Specialist with the HR Connect Program Office US Treasury Department, and Computer Specialist for the National Institute on Deafness and Other Communication Disorders (NIDCD) National Institute of Health (NIH), in Bethesda, Maryland
As a 20 year veteran, Ryan is currently enlisted within the DC Air National Guard as a Religious Affairs Airman (formally Chaplain Assistant) within the 113th Wing Staff – JB Andrews, Camp Springs, MD providing monthly religious services, peer counseling, and to ensure the free exercise of religion for every airmen and his or her family member.
Assists in planning religious support operations and deployments and informing Air Force leaders on matters related to religious, spiritual, ethical, moral, and morale concerns and advocate for the religious and spiritual needs of all Airmen and their families. Additional service includes serving active duty in the United States Navy and Navy Reserves over a 12 year span.
Presently, as a minister of the gospel of Jesus Christ, Rev. Wise is currently appointed as the Associate Pastor of Evangelism and Outreach with the historic Asbury United Methodist Church in Washington, DC and a member of the historic Metropolitan Baptist Church in Largo, Md., where his ordination is recognition though the District of Columbia Baptist Convention (DCBC) and endorsed through the American Baptist Home Mission Societies (ABHMS) as a US Naval Reserve Chaplain candidate. He has served as one of forty Associate Ministers within the congregation. In this capacity, he also serves as personal assistant to the senior pastor. Rev. Wise previously served as the Vice-Chairperson of the Christian Discipleship Council and as Assistance Superintendent of the Sunday School Education Ministry; as a Sunday School Teacher (Adult Married/Engaged class); and Men's Ministry Bible Class Leader/Teacher. Ryan has also served as a choir member in the Men's Ensemble (Baritone), the Street Ministry, and Children's Church instructor.
Rev. Wise was born in San Diego, California and grew up in Columbia, South Carolina and currently resides in Upper Marlboro, Maryland. He is married to the former Reverend Adriane Blair and are also the proud parents of two young adults, Nicholas and Bryana Wise.
Bishop Forrest C. Stith (Retired Bishop-in-Residence; President, National African American Methodist Heritage Center)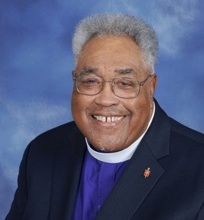 Bishop Stith is a retired Bishop of the United Methodist Church. His current duties include Bishop in Residence at Asbury, Adjunct Professor, Wesley Theological Seminary and Chairperson of the African American Methodist Heritage Center, Inc.
Born in Lincoln, Nebraska, Bishop Stith's early involvement in the UMC was the Central West Conference, Central Jurisdiction. He received a B.S. from the University of Nebraska, a Masters of Divinity from Drew Theological Seminary with post graduate studies at Princeton Theological Seminary and Howard University. He holds honorary doctorate degrees from Western Maryland College and Nebraska Wesleyan University.
Bishop Stith served the Baltimore-Washington Conference for twenty-six years as pastor, Council Director, and District Superintendent, the latter from which he was elected to the Episcopacy in 1984. One of his many responsibilities was the oversight of a loan fund of one million dollars that provided grants/loans to churches in the Washington and Baltimore areas. He was active in the Civil Rights Movement during the 60's and 70's and missions of the church at home and abroad, primarily in Africa. He and his family spent four months in Liberia in 1974 where he taught at the Gbarnga School of Theology.
For eight years he was the Episcopal Leader of the New York West area, including the North Central Conference, and the Western New York Conference. During his tenure he brought together two conferences into a merger (North and Central), focusing on local church development and a stronger missions emphasis.
He led groups to Africa, Israel, and other world ventures, resulting in a heightened sensitivity to the global reality of the church. Also, while an active Bishop, he studied throughout the globe to understand needs of his area of ministry. He and wife, Josephine, spent three months in Brazil understanding spirituality that is holistic, personal, and social. They travelled to Indonesia and Korea to witness and evaluate the fast growing churches and their lifestyles; to Costa Rica to learn Spanish to minister to area Hispanic churches; to Russia to visit the developing churches where every person is born a member of the Orthodox Church.
From 1992 to 1995, he was assigned to the New York Annual Conference. Here he began a similar ministry of local church development, clergy leadership, global outreach, and strengthening financial undergirding for local congregations and the Conference. He retired in 1996 after a year of medical disability. He spent the next three years working on behalf of the Council of Bishops and the Board of Global Ministries in East Africa, supervising new congregations and mission projects in Kenya, Rwanda, Sudan, and Uganda. Bishop Stith has been and continues to be very active in a teaching ministry for the past ten years. He has been a faculty member of several schools of Christian Mission and held teaching days for laity and clergy. In 2003, he was the "Distinguished Visiting Faculty Member" at Wesley Theological Seminary.
He also served on the special task force that published the Songs of Zion African American Hymnal for the UMC. Bishop Stith served as Vice President and President of the Denomination General Council of Finance and Administration and co-chair of the Ecumenical Decade Churches in Solidarity with Women.
Bishop Stith is married to Josephine M. Stith, an accomplished educator. They have a daughter, Lori Crystal Stith.